Mobile Marketing Offers Custom Websites, Digital Marketing Solutions to Alliance Flooring Members
MAY 11, 2023 — Flooring dealers with Alliance Flooring can grow their businesses with a customized website and digital marketing solutions thanks to a new partnership with Mobile Marketing.
Mobile Marketing is offering members two options, both designed to highlight and promote Alliance Flooring's brands. Websites will include CarpetsPlus COLORTILE and Carpetland USA product catalogs, as well as seasonal promotions, SEO strategies and more.
"We're partnering with the member group to provide solutions that differentiate them in the market," said Carole Cross, founder and CEO of Mobile Marketing. "Our partnership with Alliance Flooring gives members the option of choosing from two top-tier packages, Max and Ultra. Both align with the Alliance Flooring members' brands, messaging and in-store experience, but provide varying levels of service so retailers can choose what best fits their individual goals."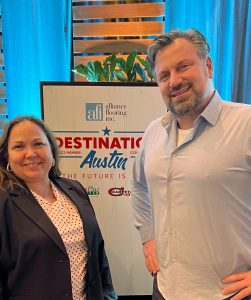 Alliance Flooring member websites are designed to create a seamless experience between online and in-store for flooring customers, while bringing attention to Alliance Flooring products. Mobile Marketing's solutions also include ratings and reviews, call tracking, and access to the unique Insight Portal, which allows retailers to see real-time updates on all their marketing efforts.
"We chose Mobile Marketing as one of our technology partners because they're an innovative leader in their field and are focused on the flooring industry," said Kevin Logue, co-president and CEO of Alliance Flooring. "They have extensive experience in providing digital solutions for flooring retailers. We work to continually improve and bring our members effective digital strategies that will allow them to grow their businesses, such as our new Perfect Home selling solution. We're excited about our partnership with the leading online agency in the flooring industry and look forward to our future together."
Mobile Marketing's websites will integrate the new Perfect Home showroom displays and its interactive design consultant, expected to launch this fall.
"We're especially excited to support this new innovative technology that includes an interactive, virtual assistant to create a user experience like no other," Cross said. "Alliance Flooring has done a great job developing a tool that is unique, the first of its kind. And we will fully integrate this technology on our websites for an immersive experience for customers interested in new flooring."
"We're excited to announce our partnership with Alliance Flooring and their retailers," said Dave Geipel, vice president of sales and marketing for Mobile Marketing. "Mobile Marketing offers the best in-class digital marketing solutions for flooring retailers in North America. As the leading marketing agency in the flooring industry, we now offer Alliance Flooring and their members new digital marketing options and solutions to help them grow through a cohesive strategy."
About Mobile Marketing Agency
Mobile Marketing creates digital marketing solutions and custom website services for retailers in the flooring and home improvement industries and beyond. The agency offers a wide selection of services including ecommerce, paid search, social media management and more and allows businesses to customize their digital solutions based on their specific needs to power the journey for every customer. For more information, visit mobile-marketing.agency.
About Alliance Flooring, Inc. 
CarpetsPlus COLORTILE®, Carpetland USA COLORTILE®, and Floorco® are divisions of Alliance Flooring, Inc., a business networking and resource-licensing group. Networking and enhancing industry relationships are two distinct advantages of the Alliance Flooring program for independent store owners. For information on membership call 1-800-261-6456. Company news and high-resolution photos are available at their Company information site allianceflooring.net/news. They are also on LinkedIn, Facebook, Instagram and YouTube. Their consumer website is carpetspluscolortile.com.
Visit allianceflooring.net for high-resolution photos and more information about the Company.